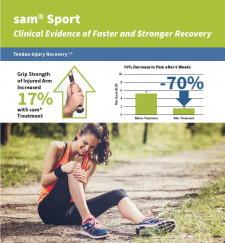 SAM technology is growing more popular among professional athletes and everyday people for its ability to reduce pain and help recover without invasive surgery. Drug-free and safe.
TRUMBULL, Conn., January 5, 2021 (Newswire.com) - ​ZetrOZ Systems, developers of the Sustained Acoustic Medicine (SAM) wearable ultrasound, an FDA-cleared bio regenerative medical device and leader in development of SAM technology announces that SAM is a safe, effective alternative to manage pain and injuries when surgery is not an option. In some cases, due to possible complications or medical history, some patients are not ideal candidates for surgery. SAM provides a non-invasive method of pain management and relief from several different musculoskeletal conditions and injuries.
"We've been working to satisfy the demand for more effective methods of non-invasive pain relief and recovery," according to Dr. George Lewis, President and CEO of ZetrOZ. "Sustained acoustic medicine provides the type of pain management and relief that is suitable for both at home use, and professional applications; having a non-surgical alternative can reduce the potential for more complications down the line."
In numerous clinical studies, SAM clearly demonstrated its ability to heal muscle and tendon injuries without surgery. According to one such study which gauged the effectiveness of SAM treatment among athletes suffering from elbow tendinosis, "treatment with SAM increased the grip strength of the injured arm by 17%. Subjects in the study also reported a 70% decrease in pain on a zero to 10 scale over the six-week study."
ZetrOZ has also received funding from the National Institutes of Health (NIH) to discover new ways to reduce arthritic pain utilizing non-surgical, non-narcotic methods and technology. The mechanism of action and deep tissue treatment affords SAM the ability halt inflammation and improve joint lubricity without the need for pharmacological intervention.
To learn more about ZetrOZ and its SAM line of products, visit samrecover.com.
About ZetrOZ Systems
ZetrOZ Systems is an FDA cGMP and ISO 13585 medical technology company headquartered in the southern coastal region of Connecticut. The organization also has manufacturing facilities across the United States. ZetrOZ Systems produced UltrOZ®, sam® Sport and sam® 2.0 to provide safe and effective treatment options for prevalent conditions such as arthritis. Learn more at zetroz.com and samrecover.com.
Media Contact:
Ledora Brown
ledora@newswire.com
Source: ZetrOZ Systems
Share: