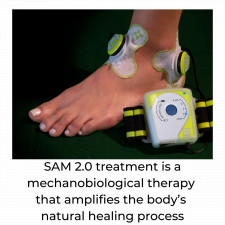 The bill aims to expand provider access to FDA-approved, non-opioid pain management approaches. Sustained Acoustic Medicine, developed by ZetrOZ Systems, is among those approaches.
TRUMBULL, Conn., May 5, 2021 (Newswire.com) - Introduced in the 116th Congress, The Non-Opioids Prevent Addiction in the Nation Act, or the "NOPAIN Act," is a bipartisan piece of legislation that increases access to and incentivizes non-opioid treatments for acute pain management. Sustained Acoustic Medicine (SAM), developed by ZetrOZ Systems, is one such treatment that provides safe, effective pain relief from many common soft-tissue injuries without surgery or opioid use.
SAM is an FDA-approved, wearable ultrasound device that accelerates the natural healing process and reduces acute pain associated with tendon, ligament, and muscle injuries without the need for surgery or powerful pain medications. The treatment is currently in use by 28 NFL teams, 24 NHL teams, 27 MLB teams, and 24 NBA teams for treating both acute and chronic injuries.
According to Dr. George Lewis, CEO of ZetrOZ Systems, "Narcotics and surgery are not always the best course of action for patients. With the potential health risks involved with complicated surgeries and opioid use, it's important to explore effective, non-opioid, non-surgical options when at all possible. SAM ultrasound treatment provides a safe, non-invasive pathway to recovery without surgery or powerful opioids."
The legislation defines non-opioid treatment as either drugs, biologicals, or medical devices that demonstrate the ability to replace or reduce opioid consumption in a clinical trial or through clinical data published in a peer-reviewed journal. It also incentivizes the use of non-opioid pain management treatments and therapies and improves coverage for them.
SAM utilizes continuous, low-intensity ultrasound therapy to accelerate the natural healing process. This inhibits inflammation while increasing the rate of tissue regeneration, angiogenesis, and nutrient exchange. Numerous studies have supported the benefits and effectiveness of the treatment for both athletes and non-athletes who have sustained an acute musculoskeletal injury.
According to data from the CDC, overdose deaths accelerated amid the pandemic, reaching the highest number of deaths in a 12 month period in 2020. "The increase in overdose deaths is concerning," said Deb Houry, M.D., M.P.H., director of CDC's National Center for Injury Prevention and Control. "CDC's Injury Center continues to help and support communities responding to the evolving overdose crisis. Our priority is to do everything we can to equip people on the ground to save lives in their communities."
To learn more about ZetrOZ and its SAM line of products, visit samrecover.com.
About ZetrOZ Systems:
ZetrOZ Systems is an FDA cGMP and ISO 13585 medical technology company headquartered in the southern coastal region of Connecticut. The organization also has manufacturing facilities across the United States. ZetrOZ Systems produced UltrOZ®, sam®Sport and sam®Pro 2.0 to provide safe and effective treatment options for prevalent conditions such as arthritis. Learn more at zetroz.com and samrecover.com.
Media Contact:
Bianca D'Angelo
(203)577-7588 (Direct)
bianca@newswire.com
www.Newswire.com
Source: ZetrOZ Systems
Share: