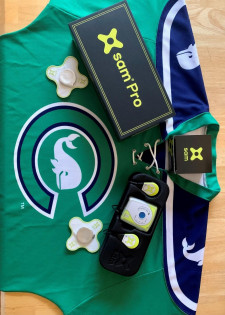 ZetrOZ is partnering with the National Women's Hockey League, becoming the official sustained acoustic medical device of the Connecticut Whale
TRUMBULL, Conn., December 1, 2020 (Newswire.com) - ZetrOZ Systems, developers of Sustained Acoustic Medicine (SAM) wearable ultrasound, an FDA-cleared bio regenerative medical device, has announced that it is now the official sponsor of the Connecticut Whale, a franchise of the National Women's Hockey League. ZetrOZ will become a presenting partner of the Connecticut Whale and be featured in starting lineups, social media, broadcast announcements, and injury reports.
"We're incredibly excited to be partnering with an organization as acclaimed as the Connecticut Whale," says Dr. George Lewis, president and CEO at ZetrOZ Systems. "Our goal has always been to connect and work with those organizations whose motivations and objectives align with our own, and we're looking forward to introducing new people to ZetrOZ and SAM technology that's helping athletes recover without surgery."
As a presenting partner of the Connecticut Whale, ZetrOZ's company name, logo, and tagline will be featured in all social media posts, press releases, and broadcast announcements regarding Connecticut Whale starting lineups and injury reports.
Amy Scheer, GM of the Connecticut Whale notes, "We are delighted to not only have ZetrOZ Systems as a club partner but more importantly, the use of their products to help keep our players healthy and on the ice."
The athletic training staff of the Connecticut Whale will also track player healing outcomes with SAM 2.0 medical technology. SAM treats over 35% of muscle and tendon injuries without surgery, helping elite athletes and professionals in physically demanding jobs get pain relief; long duration continuous ultrasound therapy accelerates natural healing at the molecular level and is manufactured in Trumbull, Connecticut.
A 2020 study published in the Journal of Orthopaedic Surgery and Research concluded that sustained acoustic medicine is a safe, effective, non-surgical and non-opioid treatment option for patients with arthritis pain.
To learn more about SAM and its other line of products, visit samrecover.com.
About ZetrOZ Systems
ZetrOZ Systems is an FDA cGMP and ISO 13585 medical technology company headquartered in the southern coastal region of Connecticut. The organization also has manufacturing facilities across the United States. ZetrOZ Systems produced UltrOZ®, sam®Sport and sam®Pro 2.0 to provide safe and effective treatment options for prevalent conditions such as arthritis. Learn more at zetroz.com and samrecover.com.
Media Contact: MelissaPR@newswire.com
Source: ZetrOZ Systems
Share: