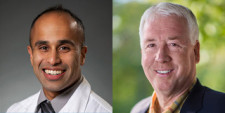 ZetrOZ is expanding on the certified SAM CME Education Program, offering multiple CME courses across several delivery platforms with Dr. Rod Walters and Dr. Rajiv Mallipudi.
TRUMBULL, Conn., January 13, 2021 (Newswire.com) - ZetrOZ Systems, developers of the Sustained Acoustic Medicine (SAM) wearable ultrasound, an FDA-cleared bio regenerative medical device and global leader in the development of SAM technology, announces the expansion of the nationally recognized continuing medical education program, designed to train, and certify professionals including nurses, athletic trainers, physicians and physical therapists on the use and application of SAM technology.
Courses will be led through a SAM Learning Management System virtually by Dr. Rod Walters and Dr. Rajiv Mallipudi, who will cover a wide range of topics on or related to the practical clinical usage and application of SAM technology. This will include:
Clinical utilization and patient profiles
Injury Types
Health economics and care pathway
Best use case scenarios
Latest clinical research and meta-analysis of literature
Placement and treatment protocol
Sustained Acoustic Medicine (SAM) is an innovative mechanobiologic treatment that is applied for 4 hours per day, 7 days per week for 8-10 weeks to amplify the body's natural healing process and reduce inflammation and chronic pain. The SAM treatment has displaced the use of many pharmaceuticals and surgical procedures which are no longer needed to effectively treat many musculoskeletal conditions.
Since 2011, Dr. Walters has provided services to professional baseball with concussion management of professional baseball umpires, and began working with the National Football League as a concussion spotter with the Atlanta Falcons. He is also a member of the National Athletic Trainers Association and served on their Board of Directors from 1997 to 2003. He received the NATA's Most Distinguished Athletic Trainer in 2003 and was inducted into the NATA's Hall of Fame in 2005. He is also a member of the American Orthopaedic Society for Sports Medicine. Dr. Walters has been active in the field of athletic training since his graduation from Appalachian State University in 1980, where he received his undergraduate and master's degrees.
Dr. Mallipudi is a board-certified internal medicine hospitalist, healthcare systems clinical researcher, and passionate medical educator who is appointed in the Department of Medicine at the Yale School of Medicine and serves as Director of Medical Education for ZetrOZ Systems. Dr. Mallipudi received his undergraduate degree in Biomedical Engineering from the Johns Hopkins University, a master's degree in Biochemistry and Molecular Biology from the Johns Hopkins Bloomberg School of Public Health, and a medical doctorate from the Avalon University School of Medicine graduating with both summa cum laude and President's List honors.
To learn more about ZetrOZ and its SAM line of products, visit samrecover.com.
About ZetrOZ Systems
ZetrOZ Systems is an FDA cGMP and ISO 13585 medical technology company headquartered in the southern coastal region of Connecticut. The organization also has manufacturing facilities across the United States. ZetrOZ Systems produced UltrOZ®, sam®Sport and sam®Pro 2.0 to provide safe and effective treatment options for prevalent conditions such as arthritis. Learn more at zetroz.com and samrecover.com.
Media contact: Ledora Brown, Ledora@newswire.com
Source: ZetrOZ Systems
Share: